September 04, 2017
by Carmen
Reviews: 0
Choose smart your traffic sources
No matter if you're doing arbitrage or simply, media-buying, the first thing I want you to keep in mind is that not all traffic sources have the same quality, and no traffic source will work for all your campaigns. Testing is key, regardless of what crazy eCPMs you hear other affiliates are doing elsewhere, or anywhere for that matter!
For example, if you are going for carrier billing offers, make sure you choose traffic sources with carrier targeting and always do a research before about the traffic source that you are going to use. A lot of them have in-house media buying teams focusing on rising targets, so there's no point in going into a bidding war with them.
Always look for ways to target carrier traffic correctly and you can do that by targeting correct IP ranges instead of carrier names. The reason? Most traffic sources use different third-party IP Range detection partners to detect mobile carriers and most of the time they are free, which makes accuracy highly volatile and cause differences between what you're seeing on their interface with what's actually ending up on your affiliate panel. Once you're a TOP RUNNER with us, BitterStrawberry.com can provide you with reports of the IPS associated with all your conversions.
Work on your bid.
Bid low to start. Start with $0.12 and gradually increase till you're getting at least 5.000-10.000 visits to test every single campaign, or at least 20.000-30.000 visits to test every Carrier.
Here's how to see it:
Calculate the number of offers you want to run, let's take example 5 offers. We recommend testing each offer with 2-3 landers, from 3 different traffic sources.
So that's 15 tests * 3 sources = 45 different ways.
Run at least 200-300 hits for each, the ideal volume for each offer will be 13.500 total /5 offers = 2700 hits in average for testing for every offer.

For example, we have an average of 50+ rotating campaigns for every combination of "country + mobile carrier per every vertical". Sending too little traffic will result in users being divided in low numbers to all campaigns. Sending adequate minimum volume will allow broader and more relevant offer performance.  The key is to bid low and cut placements rigorously. Then… SCALE!

Ideally, you would do this after a broader WW test, when you've already identified your best GEO's and traffic segments. Using bad quality traffic (click skims for example) to test offers would just be a wrong way to start.

The higher you set the frequency to, the more traffic you'll get, but the highest probability is your ROI will drop, until you find the perfect campaign to match. As we have no control over your traffic spend, it's up to you to test and find out.
If you get a ton of traffic, but has a bad ROI, decrease your bid, if you have targets/ placements that give good ROI but low volume, increase your bid. Based on the traffic source you're working with, you need to know that you can't always get 100% accurate carrier traffic click by click, you'll get also at least 10-30%, or more, Wi-Fi Traffic. 


That shouldn't be a problem! You can set up for each singular offer whether to RETURN traffic that is not precise match for the specified targeting or if you are working with BitterStrawberry.co you can send it to the SmartLink where every user will be matched with a relevant offer.
Some key rules we advise you to set yourself when it comes to Flat Buys:
Never buy in full without a test period of at least 24h-48h. Keep in mind that there are a ton of things to look out for (day/night parting, day of the week, fluctuations in traffic by day & more) Once you paid the money, there are rare cases when a webmaster or publisher will agree to cancel and pay back the money.
Always ask complete and as detailed as possible stats. If possible I recommend only buying from webmasters that have Google Stats. Not stats from their own TDS system.
Set a minimum traffic volume guarantee and if possible, penalties & terms for any un-expected Google update traffic shortage. You don't want to find yourself in the 8th day of traffic when traffic disappears and you have to wait 3 months to get the traffic volume you paid for.
Prepare custom creative designs to stand out against content that is on the specific tube.
Research! Ask recommendations, check forums, postings about previous flat deals made on the specific tube site.
Set a relevant budget. Preservation of budget is key to everything, but there's no high reward with small risk.
While for CPC doing brokerage and selling at a higher CPC brings you ROI (if you have good connections), when doing CPA, CPL, CPI , users interest is the decision maker here. So setting a budget that allows you to collect actionable data on is crucial! See our article about smart budgeting here.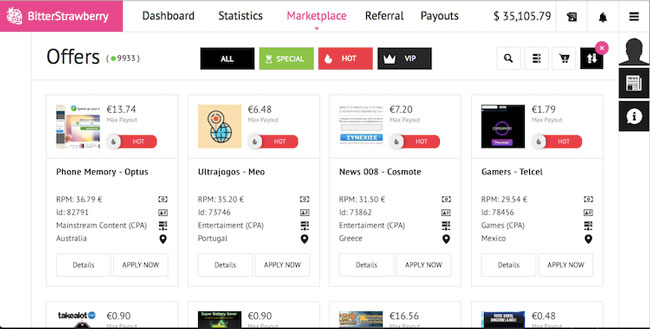 Choosing what offers to run & analyzing the data
In principle, this pretty much comes down to:
- What kind of offers you have experience with;
- What traffic sources can provide you with good volume for the GEOs you're looking to target first;
- What payout models you're used to work with;
- And most importantly, what's your budget?
After you've singled-out at least 1 of these 4, the next thing you'll want to know is: What works best?
As general overview, we will break it down in two sections:

1. Adult: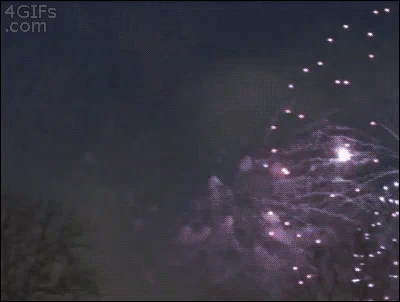 Adult Mobile Video Subscriptions. Adult content has been the most prolific form of business since ages. It certainly got scattered across a ton of devices/businesses but especially in mobile, it's a market that will always have public.
In most GEO's, users only have to tap 1 TIME to be subscribed directly, and some have either REBILLINGS! And yes, you'll get a commission reported every time the user is billed.

Adult Dating. Generally well known for developed GEO's where users don't mind paying a 20-100$ fee for a monthly subscription, it's definitely getting more volatile but still has a lot to through in.

VR (Virtual Reality) This technology absolutely changed the way content is being consumed, and with the ever-growing gadget manufacturing it's no surprise that this "niche" is just "warming" up.

There are antivirus offers that work really well with adult traffic, providing your users react to the offer lander and get you clicks & conversions.
Specific offers that run well:  antivirus, enlargement pills, live cams, muscle etc.
One thing is certain! Adult was and will remain a vertical that will never become extinct. Especially with the rise of new technology, we see signs that a bigger boom has already begun. As any vertical it has its up and downs, which will always be there, so you need to have always a ton of resources at your disposal which you can activate in the shortest time.

2. Mainstream: 

App Installs. Apps will continue to represent the largest % of all top opportunities, with GEO's from APAC gently taking the lead in user acquisition and payouts. While easy to promote and gather user interest to download, advertisers and developers already have set high demands & filters, resulting in a cascade of unpaid leads due to several reasons, so watch out if you are promoting them. The most difficult thing for top paying App Installs is to meet the KPI. There isn't a global standard in place, most developers or advertisers having specific requirements; Some example of their requirements:
• Retention Rate from 10% to 40% minimum. Most request this from Day 1 to Day 7;

• If the app is arcade type, users need to pass a certain level (ex: level 3)

• Uninstall rates – Users which un-install in the first 3 days are not paid.

• Churn rate beneath 15%
Word of advice! Make sure the creatives & landers you use really picture the apps USPs (unique selling points) and are not misleading. Users will immediately drop the app right after purchase if their expectations aren't met.
The hot verticals right now in mainstream are: Entertainment, Games, Utilities, Glamour & Sweeps. BitterStrawberry.com has over 12.000 direct offers marketplace, from partnerships with major carriers, big advertisers, localized advertisers & exclusive deals, from a variety of verticals available worldwide, all payout models and unlimited capping. On top of the thousands of offers available at all time, each day they are adding over 200 fresh, new offers, which are tested with in-house traffic, so that your users won't be the guinea pigs. :)

You can regularly check the top charts in BitterStrawberry.com marketplace to see the hot offers right now and ask our affiliate managers for recommendations, at least once every 3 days.
But, if you have no time to be on top of each offer, our Smartlink will auto-optimize your traffic. We run performance-benchmarked SmartLinks, one single URL, tailored on each affiliate's traffic type, that covers all GEOs with an in-house developed algorithm that segments traffic, providing the most profitable offers for each specific target. This tool allows you not only to target offers that match your every visitor with tailored ads to meet the criteria of your user (Country, Connection, Carrier/WiFi, Device, OS, Browser, Day/Night Parting & more), but also can be used as a fallback/remnant solution for the campaigns you run singularly and backfire, reach capping or you simply get a solid volume of un-targeted bulk traffic.
Test everything!

Test efficiently setting multiple campaigns in the vertical or GEO you're looking to start with. Be flexible, gather data from your tracker and make data driven decisions. Our most successful affiliates follow this pattern to find profitable campaigns, repeating the process every 1-2 weeks depending on their time & budget:
Step 1. They pick a vertical where they have experience with (dating, nutra, etc);
Step 2. They pick 3-5 GEO's they want to start with based on our recommendations for their targeted vertical, based on:
- Gross Revenue on the specific vertical
- EPC
- Type of traffic (pop, banner, direct source, purchased traffic, direct publisher traffic)
- Existent Traffic volume
- Targeting saturation. If there is already huge competition /other affiliates scaling massively, suggesting you these campaigns, will only lead you into bidding wars against each other;
 
Step 3. They test either their own landers or the ones that we have most popular for that specific vertical. If you want to run singular offers with us, using generic or targeted banners you can download from each offer in our market place is a good way to start. You can effectively turn display traffic into mobile pops and send to offer landing page. If you're using smart link or a combination of smart link and selected offers, you can also buy pops directly.
Step 4. They test every offer with relevant budget & clear targeting, adjusting targeting on the run with the help of the IP's and Macro's associated to all conversions.  In order to come to your help, we released this year a revolutionary tool for A/B testing. You have the possibility to create your own rotation of offers with custom rules and split the traffic between offers with your own conditions, with no other tracking tool or platform needed.
Step 5. Once you have relevant data to act upon, review all the information together with your affiliate manager, adjust the scale on the campaigns that look promising, test different landers using visitor heat maps to further optimize your lander, and take a close look on OS's  & traffic zone placements which have worked best as a whole.
 
Language

While most people tend to run with English speaking GEO's as it's easy to create 1 fits all landers, think again! While in English it might sound well for you, English-speaking GEO's are most commonly the most competitive. Spend a few $ more and get your landing pages translated.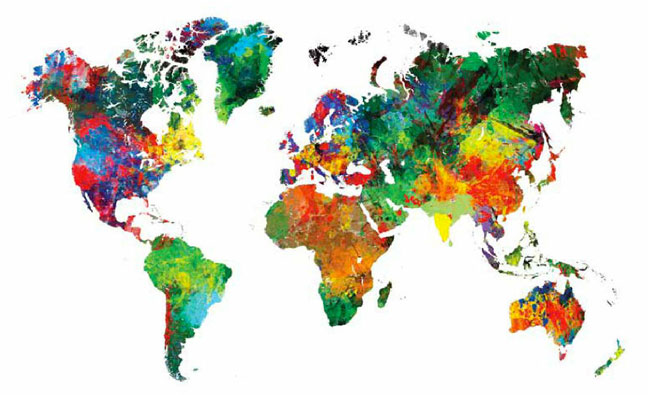 Remember just to keep testing. Repetition is Key. Doing the same thing over and over again and expecting different results rarely works.
If you have extra questions or need help to find a good strategy for your traffic, send us an email at [email protected]. We would love to help!