February's big global event is Valentines Day and with the online dating industry generating $2.14 billion in revenues this year, dating is big business. In fact, research from Stanford University is demonstrated in the graph below shows that meeting a partner online far outweighs any other method. Dating site usage has risen year on year as single people looking for partners try out the different algorithms that dating sites use to meet a partner.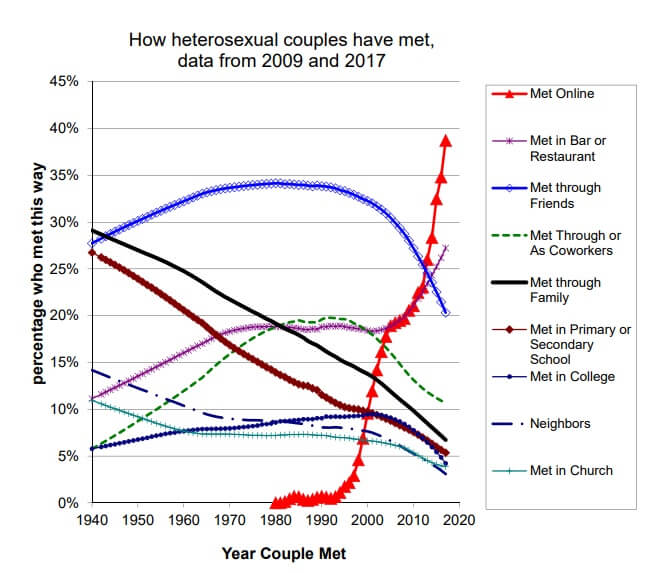 One way that advertisers can reach online dating site members is through ExoClick's members area publishers. ExoClick has several exclusive traffic deals with some of the world's biggest dating sites. Members area traffic is very high value where you can reach engaged, active and qualified online dating users. With worldwide traffic available, with top GEOs: North America, DACH and Europe. Members area traffic is ideal for Dating, VoD, Webcams, Nutra, eCommerce and Games offers. 
But do dating offer ads get more clicks during Valentines Day, do eCommerce offers get more clicks at Christmas?  Based on figures from 2019, ExoClick's BI department examined the number of clicks on ads inside members area ad zones the week before, and during each of these global seasonal events: Valentines Day, Easter, Singles Day and Christmas. The following results show increases and decreases in click percentages in the week during the seasonal event.
We also looked at Members Area traffic volumes for Valentine's Day 2019. By comparing the day before Valentine's Day and Valentine's Day itself, single people are more active on dating sites on February 14th. Our network saw a global traffic increase of 16.7% on membership dating sites. With more dating site members being active on Valentine's Day there are more chances for these qualified users to see and click on your ad as they search for a date.
As an advertiser, we hope that this data can help you decide which offers to target at members area traffic based on these 4 global seasonal events.
ExoClick has two presentations related to Dating & Members Area traffic at this TES Affiliate Conference in Cascais:
The World of Dating (12 noon Saturday 29 February)
5 dating industry professionals with extensive experience in the dating industry discuss the best ways to monetize this vertical. With Jenny Gonzalez, Vladislava Bogatinovski, Alfonsus Kusuma, Stephen "Mega" Ventura and Kelan Stone.
Members Area traffic: How advertisers can get maximum value from this high converting traffic source (4pm Saturday 29 February)
Aimed at advertisers and affiliates wanting to convert their offers to members of dating sites, this presentation will give you the expert knowledge and tips you need to get maximum value from this high converting traffic source.
We will cover:
● Dating niches and how to micro target these communities
● The distinct differences between tube sites and dating sites
● The user experience in seeing your ads
● What offers and how to push them to dating site members
● Key business intelligence statistics
● CTRs and best practices for advertisers
● Question and answer session