March 27, 2019
Reviews: 0
Hi guys!
It's been a while since I posted an insider review of affiliate networks. Today's review is dedicated to the network that has exceptionally cool offers. Why? These guys are exclusively focused on the Nutra vertical rather than trying to cover all the verticals out there. But first things first.
Dr.Cash  is an affiliate network that has been working with the Nutra vertical since 2016, they have an amazing set of Health & Beauty offers. The network both promotes their own products and carefully selects advertisers around the world to provide the best choice for the affiliates and webmasters who use their platform.
Currently, Dr.Cash has:
2400+ offers (Nutra only, it's their specialization);
50+ Health & Beauty niches;
100+ geo with Trial, SS, and COD offers;
Own, user-friendly platform;
Payouts up to twice a day: Webmoney, Epayments, Capitalist, BTC, Wire;
Now the guys are in the midst of the "Asian Massacre", a competition that involves the best offers from direct advertisers in Asia and India. Any affiliate can compete for the main prize - $ 10,000 and other guaranteed prizes such as MacBooks, iPhones, brand new Mercedes Benz cars — everything a successful partner needs. The conditions of the competition are very simple: you've got to become one of the top 5 webmasters with the largest volume of leads in certain countries.
Participating GEOs: IN, TH, ID, PH, TW, VN, MY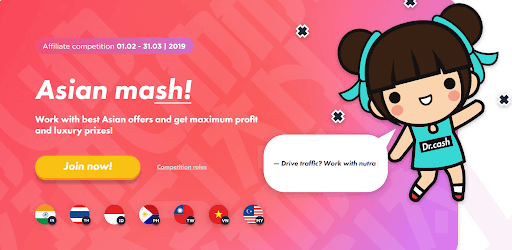 Now, let me tell you more about the affiliate program and I'm going to start with the website. The website features all the statistics of Dr.Cash:

You can identify the top offers effortlessly, which is very cool.

You can find case studies and that is not something every affiliate program can boast about. You can see that affiliate partners work with various sources of traffic, from push notification ad networks to Facebook. This shows that with the right approach, Dr.Cash offers can generate high conversion rates.
The case studies are published on their VK page: https://vk.com/@drcash-cases
Next to the link are the contacts of the support manager who is available via Telegram, Skype and e-mail. I think this is much more convenient than online chats in other affiliate programs.
Now, let's go deeper. It is very easy to register, there is no need to wait for account confirmation. You will immediately be assigned an account manager who will help you if you have any questions.
By the way, what I really liked is that my manager immediately added me on Telegram and offered help with choosing the best offers.

When you log in to your account, you can see the basic statistics for your campaigns.

You can expand the information provided by selecting additional options:

Possible options:
Offer - Campaign - Landing page - Pre-landing Page - Geo - Device - OS - Browser
Additional data can be passed in:
- Sub1 - Sub2 - Sub3 - Sub4 - Sub5
Separately, you can check the performance of your leads by going to the "Leads" section on the left, in the menu bar. There are filters at the top that allow you to see more detailed statistics on:
- Date - Lead Status (trash, pending, refused, sold) - Channel - Offer

The "Finances" section shows payout history and you can request a new payout here.

In addition, the "Offers" page shows approval rates for the last 30 days and offer ratings. This allows you to instantly understand what offers attract the biggest traffic and what approval rates to expect. Filtering by category, geo or payment model is available.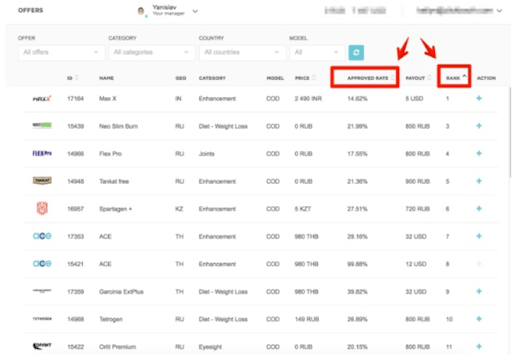 Generating large volumes of traffic around the world, the affiliate network provides direct streams, cloud storage and optimizes the download speed — in short, the guys are doing everything they can to keep your conversion rates as high as possible.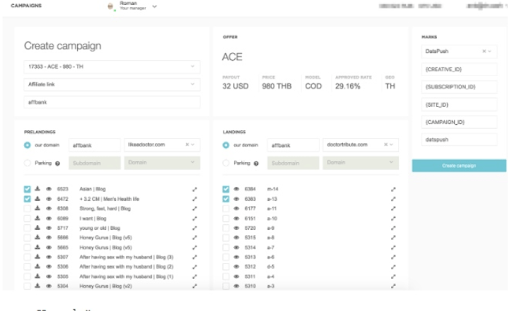 As you can see, there are countless lending pages for you to try and test.
This platform is so easy to use! Personally, I love it, and what's more, it's effective! Based on the reviews on the Internet, as well as the feedback that I collected from the affiliate partners who drove traffic to Dr.Cash offers, this is one of the most loyal affiliate networks on the market. They have an awesome support team, they help you to solve any issue and are always happy to choose the best offer for you. If the quality of the traffic is high, expect a private offer. Their payments are ones of the most competitive in the market, and approval rates will leave you satisfied.
In short, Affbank recommends this network!
And the last but not the least, top offers for you!
17164 - Max X - COD - [IN] - 17% - 5$
15421 - ACE - COD - [TH] - 100% - 12$
15420 - Garcinia Nutritive - COD - [ID] - 21% - 18$
17405 - TitanGel - COD - [VN] - 27% - 14$
17524 - Keto Hack - SS - [US] - 100% - 100$