April 19, 2019
Reviews: 1
Push notifications is the newest traffic available today, and it is a really hot source. If you know what to promote and how to do it, push notifications will surely bring the Benjamins. But it can also be an expensive traffic source if you don't know what you're doing. Testing campaigns out without having any idea about what works best can easily burn through your budget.
If you're already running or are interested in running push traffic for your affiliate offers, getting a spy tool is the smartest thing to do. But since it is a new traffic source, there are hardly any push ads spy tools available today. So imagine my excitement when I learned about Anstrex's Push Notifications Spy Tool. Anstrex is already gaining a good reputation for being a Native Ads Spy Tool, so I was eager to try it out.
It is not the first push notifications spy tool in the market, but it seems to be better than its predecessor. What was clunky and wasn't working with the other spy tool, Anstrex was able to improve on and more. Since Anstrex offers a two-day risk-free trial, I went ahead and registered. If this spy tool can help me find the right combination of ads for my offers, then the monthly fee of $79.99 might just be worth it.
Anstrex At First Sight
Once you sign up, you will immediately see the listings in the dashboard. It shows all push ads in their inventory in a continuous scroll.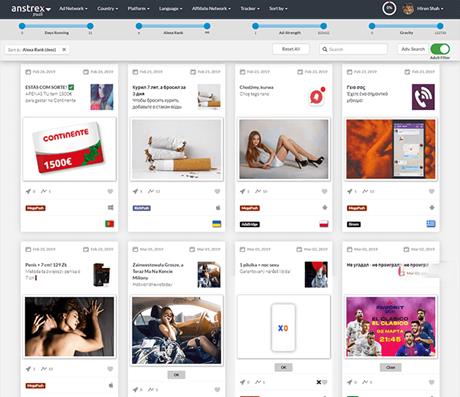 You will also be prompted to go through their entire video tutorial on how to use Anstrex. I found this feature extremely useful and I think all tool vendors should make a note of this feature and offer it.
However, if you want to skip some tutorials and would rather play around the dashboard, that is fine too. I would recommend watching the training videos marked "must watch", such as how to download and deploy landing pages, as well as uncovering cloaked landers. If you don't use these Anstrex features, you're not using the spy tool to its fullest potential.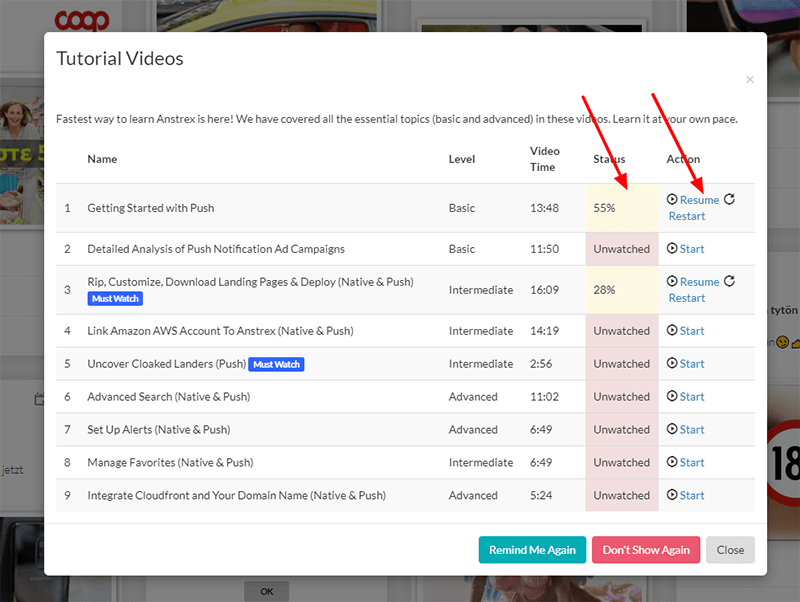 Now by default, the latest ads are shown on the dashboard. What I noticed is that the first ads shown are usually just a day old. If you'd like to see ads that have been running for a long time, you should use the filters else you would have to scroll down a long while to find them manually.
There is some basic information about the ad available immediately to you in the dashboard. This includes:
Date first seen
Date last seen
Ad title
Ad text
Ad icon image
Ad banner image
Ad button (some advertisers offer this)
Ad gravity
Ad strength
Advertiser(s) the ad is running in
Affiliate network
Devices
Country
Save ad option (the heart icon)
Tracker used
It's pretty straightforward actually. If any information is missing, such as ad network, affiliate network or tracker used, it simply means Anstrex couldn't verify this information for that specific ad. They'd rather show nothing than place incorrect information. I like that. No deception.
If you want to see more information regarding the campaign, you can just click on the ad title or text. In the window that pops up, you will be able to see other important data such as the ad's ranking, bid history and alternate creatives from the same advertiser for the same offer. Being able to compare the stats of these creatives will give you an insight on which ad is working better than the rest. With this data, you won't have to do the testing; your competitors are doing it for you! More often than not, you'll also be able to use the Download & Deploy feature.
My Favorite Anstrex Features
Anstrex has a ton of features and I must admit that I haven't explored them all yet. But so far from what I've seen and used, these are the ones that have quickly become my favorite:
Advanced Filters
Being able to filter ads is important for me to find exactly what I need. Anstrex uses Boolean logic, which means you can find ads based on a combination of parameters such as ad network, affiliate network, text, landing page URL and more.
CPC Bids and History
This feature is a game changer. There is no other spy tool offering this feature currently. Finding out how much your competition is paying for the ad is such a cool feature. With this, you don't have to engage in a bidding war. You either overbid your competitor or bid just a cent below him to get the rest of the traffic. Whatever your strategy, knowing how much others are paying for the ad can help you plan more efficiently.
Different Creatives for the Same Ad
Say goodbye to split-testing! Not only will you able to see various creatives, you can even compare the results. This feature can save you a lot of time and money.
New Ads Alerts
I easily get notified of new ads created by my competitors based on specific filters I created beforehand. This keeps me on top of my game. Creating alerts is similar to using the advanced filter; the only difference is that you can add how often you'd like to be notified (by email) of new ads that gets through your filter. They save ads that appeared in the last seven days in your Alerts dashboard.
Download and Deploy Landing Pages
I believe this is the most powerful feature of Anstrex push spy tool, and what makes the monthly fee really worth it. No longer will you have to recreate the landing page manually; you can just (1) download it in Anstrex, (2) use their WYSIWYG editor for any changes you'd like to make, (3) replace outgoing or affiliate links with one click, and (4) deploy it to your server. You would first have to connect your Amazon AWS account to Anstrex to be able to do the last step, which is simple enough.
Imagine being able to have your own version of a profitable landing page in as little as five minutes! I was blown away by how crazy easy it was.
All in all, I think Anstrex is a really great push notifications spy tool. As of the moment, the number of ads in their inventory is not a whole lot as compared to others. But seeing as the company has just launched this tool a week or so ago, what they have created is nothing short of amazing. I will continue to use it and might even consider adding the native ads spy tool as well. I am confident that I'll be able to profit from the information I'm getting at Anstrex Push Ads Spy Tool.
For a limited time Affbank users get 20% lifetime discount on Anstrex by using coupon code: affbank_20