March 06, 2018
Reviews: 0
Have you ever played in spy games during your childhood? Have you ever dreamed to become a ninja? You have a chance now – Adplexity is the best way to spy for your competitors!
The analytics is the main part of Affiliate business. We are all understand that it is always important to know your competitors and what campaigns they run in all details, as it helps to build your own strategy.
Today we will make a review onone of the best tools that helpsto analyze the campaigns of other networks, we will tell you about Adplexity - an intelligence tool for mobile, native and adult ads.
There three options provided: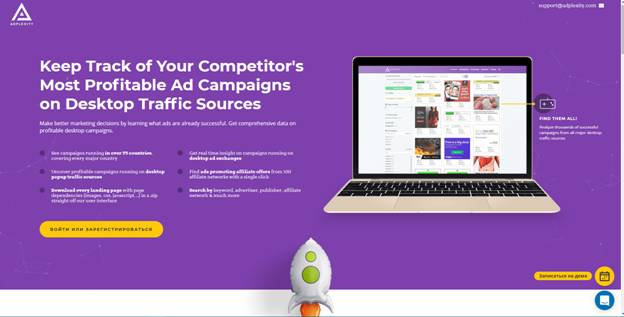 Let's start from the facts:
- Over 75 Countries
- 120+ CarriersSupported
- 100 Affiliate Networks
- Downloadeverylandingpage
- Realtimeanalytics
- Search by keyword, advertiser, publisher, affiliate network
Now we can have a look on the all mentioned options in details.
Countries.
United States of America, India, Italy, France, Indonesia, Brazil, Mexico, Canada, Germany, China, Turkey, Spain, Poland, Viet Nam, Norway, Thailand, Netherlands, Japan, United Kingdom, Malaysia, Argentina, South Africa, Russian Federation, Israel, Sweden, Denmark, Ukraine, United Arab Emirates, Colombia, Bahrain, Philippines, Saudi Arabia, Egypt, Singapore, Czech Republic, Portugal, Pakistan, Hungary, Belgium, Chile, Belarus, Hong Kong, Switzerland, Qatar, Jordan, Ecuador, Iraq, Kuwait, Australia, Nicaragua, Peru, Austria, Romania, Bulgaria, Puerto Rico, Dominican Republic, Finland, Lithuania, Sri Lanka, Guatemala, Bangladesh, Serbia, Nigeria, Greece, Panama, Paraguay, Ireland, Latvia, Ghana, Croatia, Bosnia and Herzegovina, New Zealand.
120+ Carriers Supported
WIFI, Verizon US, Orange FR, AirTel IN, Reliance IN, Telcel MX, TATA DOCOMO IN, TIM IT, SFR FR, Telkomsel ID, Vivo BR, AT&T US, Vodafone IN, Oi BR, MegaFon RU, Vodafone TR, Etisalat AE, INDOSAT ID, Telus CA, Viettel VN, TIM BR, KDDI JP, China Unicom CN, MobiFone VN, IDEA IN, STC SA, Vodafone IT, Claro CO, TOT TH, China Telecom CN, Vinaphone VN, SMARTFREN ID, Movistar AR, Bouygues FR, 3 ID, Pelephone IL, Vodafone ES, zain BH BH, life:) BY, Orange ES, MTS RU, China Mobile CN, AIS TH, 3Mob UA, Turkcell TR, Vodafone NL, O2 DE, Ufone PK, XL ID, movistar CL, Vodafone DE, Telstra AU, Celcom MY, Orange PL, Maxis MY, Vodafone EG, du AE, NOS PT, Claro DO, Wind IT, Mobily SA, M1 SG, CNT Mobile EC, Avea TR, Telkom ZA, ooredoo QA, Globe PH, Claro GT, O2 CZ, Beeline RU, Orange IL, Vodacom ZA, Movistar PE, Claro CL, Tigo PY, Orange JO, P1 MY, Plus PL, Play PL, Proximus BE, Yes MY, Personal AR, TDC DK, Viva KW, Cable & Wireless PA, Claro Puerto Rico PR, Claro AR, T-Mobile HU, T-Mobile CZ, Umniah JO, KPN NL, DNA FI, Tricom DO, Vodafone GH, Vodafone PT, T-Mobile PL, MTS BY, Telenor HU, E-Plus DE, Dialog LK, Mobitel LK, 3 SE, Telenor SE, MTS UA, Sunrise CH, Vodafone IE, Grameenphone BD, StarHub SG, Vodafone RO, Vodafone HU, Vodafone CZ, Tigo GT, DiGi MY, velcom BY, Vivacom BG, Telenor RS, MTN ZA, U Mobile MY, Vip HR, MTN NG, Tigo CO, Cell C ZA, Swisscom CH, Telenor NO, Vodafone GR, Vodafone AU, Vodafone NZ
100 Affiliate Networks
Mobvista, Avazu, Mobusi, ClickDealer, Glispa, Mundo Media, ClicksMob, Art Of Click, Digital Virgo, AppFlood, MobPartner, YeahMobi, Adsimilis, Big Bang Ads, MPIRE Network, Matomy Market, Wadogo, Bruce Lead, Motive Interactive, King.com, Bidder place, Crobo, Taptica, Peerfly, Neomobile, F5 Media, Performance Revenues, Adxmi, SpykeMedia, Buongiorno, Neverblue, AdAction, Affiliaxe, Blind Ferret Media, Say CPA, Ad Bazaar, ZinQ Media, SevenGames Network, Clariad, Mobisummer, MobileTraffic.de, ArabyAds, Lumata, BlackFox.io, Adperio, WapEmpire, Brus Media, Kiss My Ads, UniLead, Mobite, Go-rilla, TheMobiAdz, CPAGrip, Ad4Game, PromoRich, Mobaloo, Adzone Media, RainyDayMarketing, vComission, Mobobeat, Tapgerine, MauLead, Linkadia, Publishers Internationale, mXpresso, BeyondSpark, Convert2Media, Sekomedia, Affiliati, Mobave, Leadhug, FrontLeads, Kin Affiliates, DomobMedia, Sammedia, AddsPro
Download every landing page
Yes, you are right, Adplexity gives the opportunity to download the Lading page you like in a zip archive with a single mouse click. This includes all page dependencies like images, javascript or css files. You can always use the page you like after downloading. Great, yea?
There are three options for the account: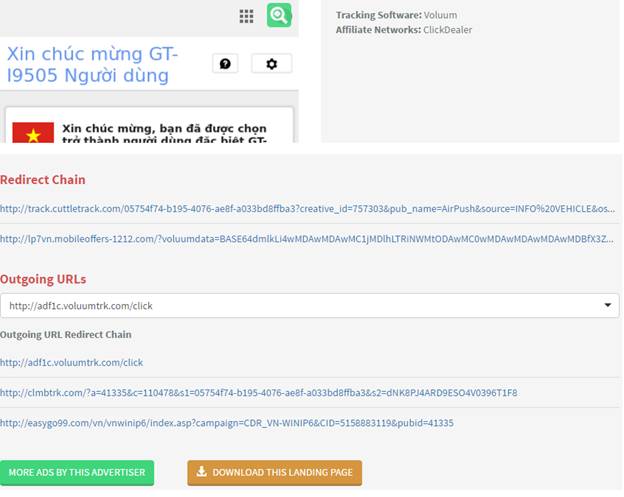 Real time analytics
It's pretty obvious and normal that you are interested in campaigns that are performs the best. Adplexity gives you the full, real times analysis starting from the ad trend to publishers.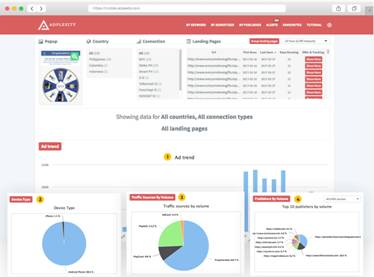 Search by keyword, advertiser, publisher, affiliate network
There are given four options for search:
Filter by a keyword–you can search for ads with desired keyword on the landing page (for example, "Hola Launcher" or any other product name)
Filter by advertiser - find ads promoting certain offer or uncover ALL campaigns run by fellow affiliate/advertiser
Filter by publisher–have a look on all ads that are running on certain website/publisher
Filter by network - find campaigns that are promoting offers from your affiliate network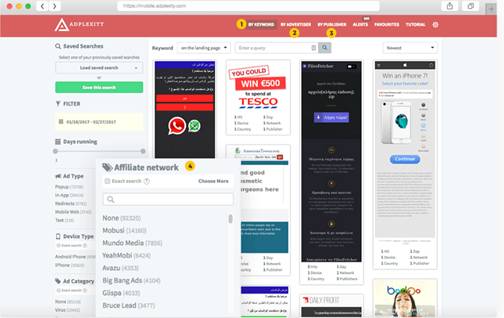 To sum up, there is no any similar spy tool on the market, as Adplexity collected the main and the most important features for the affiliates.
Below, you will find the options:
AFFBANK AND ADPLEXUTY PROPOSE THE 25% DISCOUNT FOR EACH KIND OF ACCOUNT!