White Nights Berlin 2019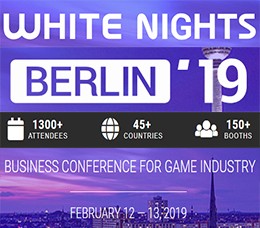 The White Nights Conference is an international business conference for game industry with the content across mobile, PC, console, web, AR and VR. The White Nights events attract influential game industry professionals and take place three times a year in February (Berlin), in June (St. Petersburg) and in October (Moscow). Every year more than 4,000 visitors altogether attend the conference.
The agenda includes two atmospheric networking parties: the welcome pre-party on the day preceding the event and an all night party after the first day. The unique thing about this conference is that it doesn't start early in the morning which helps developers to have a more productive business day.