Delivery trough (iPhone 9.0+, iPad 9.0+) KR - Non incent
Delivery trough (iPhone 9.0+, iPad 9.0+) KR - Non incent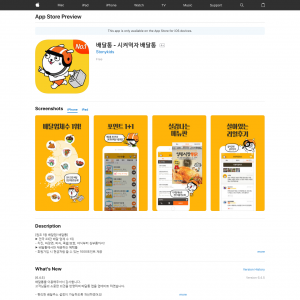 Categories
E-Commerce, Other
Description:
[원조 1등 배달앱! 배달통]

▶ 전국 23만 배달 업체 수 1위

- 치킨, 짜장면, 피자, 족발/보쌈, 야식부터 심부름까지!

▶ 배달통에서만 제공하는 혜택들

- 회원가입 시 현금처럼 쓸 수 있는 1000포인트 제공

- 주문시마다 OK 캐쉬백 포인트 적립/ 결제시 1포인트 이상 사용가능KPI: retention rate D2 30% D7 10%
Session time (click to conversion) Longer than 30 seconds and no longer than 24 hours. Conversion rate is no less than 0.1% and no more than 3%.
Similar viewed: