CHEERZ: Photo Printing [iOS] UK
CHEERZ: Photo Printing [iOS] UK
Status: Attention! This offer has been disabled at 2018-07-31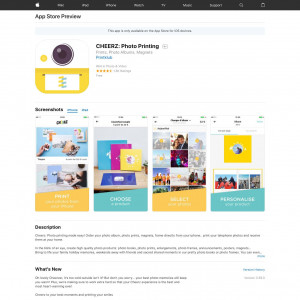 Description:
Cheerz: pic printing created easy! Order your pic album, pic prints, magnets, frame directly from your iphone.. print your phonephone photos and receive them at your home.

iOS 9+
If the outline doesn't includes specific KPIs, please think about 2 hundredth to half-hour retention rate as a usual and traditional expectation from our advertisers.
Allowed traffic: Media shopping for, In-App traffic, Banner/Display Restricted traffic: Adult traffic, Incentivized traffic, nonlegal sites, larva traffic, Misleading, VPN Proxy
Affbank presents an exclusive Mobile App offer from Braziumadvert that excepts traffic from United Kingdom! If you ever tried to push money-making offers, you are aware that it's worth the effort. CHEERZ: Photo Printing [iOS] UK offer will bring you to $1.28 profit, guaranteed. Restriction: only CPA traffic type!
Similar viewed: