MediaWorld 500 (IT) (Incentive)
MediaWorld 500 (IT) (Incentive)
Status: Attention! This offer has been disabled at 2018-05-04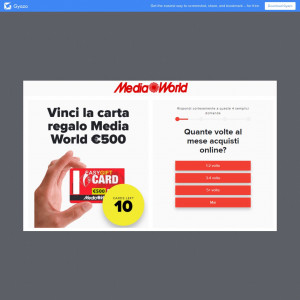 Description:
Vinci un MediaWorld buono di 500 €!

Requirements:
Iscriviti con informazioni valide.
Affbank presents an exclusive Other offer from Adgatemedia that excepts traffic from Other! If you ever tried to push money-making offers, you are aware that it's worth the effort. MediaWorld 500 (IT) (Incentive) offer will bring you to $0.36 profit, guaranteed. Restriction: only Flat traffic type!
Similar viewed: