Medium Angela - SOI - Responsive - US
Medium Angela - SOI - Responsive - US
Status: Attention! This offer has been disabled at 2018-04-11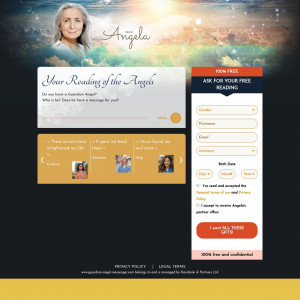 Description:
Your readings of the Angels

Conversion Requirements: Signup requiring email confirmation

Offer Cap: None Assigned

Conversion Flow:
1º User follows the click to action
2º User completes single page signup
3º User gets free access
4º Payable action triggers

Restrictions:No Incentivisation
No Content Locking
No Chat Traffic
No Spam Traffic

Allowed Promotions
SEO
SMM
Web Display
Mobile Display
Contextual
Search advertising (No Brand Bidding)
Social networks advertising
Social networks Apps
PopUnder Advertising
PopUp Advertising

Coregistrations
In Apps Advertising

Disallowed Promotions

Incentive Traffic
Adult traffic
Email traffic
Chat traffic
Doorway pages
SMS traffic
ClickUnder
Push – advertising
Toolbar – advertising
Virus Traffic

Tracking Requirements:
Affiliate Networks MUST pass their Affiliate ID into the "Sub_ID" (aff_sub) field.
Details of how to assign parameters to your links can be found here.

Additional language / currency / size creatives available - Please contact support or your Affiliate Manager with your requirements.

Payment Terms:Due to advertiser lead adjustment reporting and payment cycle, this offer is on Extended Payment Terms.
Payment of commissions on this offer are Net35.

Please be advised that lead conversions applied to your account may be subject to adjustment prior to payment as advised by the advertiser after month end.
The reason you should start promoting Medium Angela - SOI - Responsive - US is simple - it is super-convertible! Choose it if you want to earn global and act local - focus your efforts on the CPA from Other. As much as many marketers wanted to sign up for CPA Affiliates Network, it is available only for Affbank affiliates! Each sale brings $0.90 to your pocket.
Similar viewed: