Non Stop Laughing Funny Video Maxis Malaysia
Non Stop Laughing Funny Video Maxis Malaysia
Status: Attention! This offer has been disabled at 2018-07-06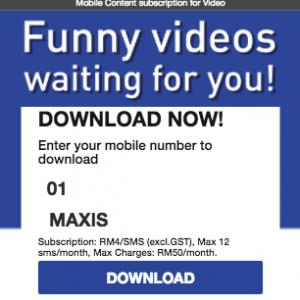 Description:
Users can watch funny video contents. Targeting:
Conversion type: CPA
Conversion flow: Mobile Subscription | MO Flow (SMS)
1. User visits the landing page2. User confirms subscription with SMS
One click to SMS
Devices: Tablet, Smartphone.
Operating systems: iOS, Android, Windows Phone.
Networks: WiFi, 3G, 4G.
Carriers: Maxis.
Restrictions:
No adult traffic.no autosubs.
Get ready for all affiliates, because Non Stop Laughing Funny Video Maxis Malaysia offer is going to knock your socks off! Just check out what you get when promoting it: Malaysia, HUGE payouts, CPA traffic type, full set of tested and highly convertible creatives, not to mention the cool design of the landing page. This Mobile App offer will make you $0.92!
Similar viewed: