Zalinco Samsung S9 NZ | SOI Incent Permitted
Zalinco Samsung S9 NZ | SOI Incent Permitted
Status: Attention! This offer has been disabled at 2018-06-01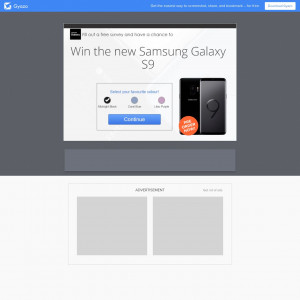 Description:
Enter to get a chance to win a new Samsung S9.
Pixel fires on third page (Landing page > Confirm information in second page > Add more personal information on third page and confirm)
Operators: Offers accept all operators
Traffic Allowed: All, including mobile traffic
Traffic Restrictions: No adult. No instant winner and use of operators logos or names. No use of a lander that claim to be from the brand or Facebook and Google. Prelanders need to be approved.
Same flow for iOS and Android. Same flow for WIFI and 3G
Geo: New Zealand
The reason you should start promoting Zalinco Samsung S9 NZ | SOI Incent Permitted is simple - it is super-convertible! Choose it if you want to earn global and act local - focus your efforts on the CPA from Other. As much as many marketers wanted to sign up for Aragon Advertising, it is available only for Affbank affiliates! Each sale brings $0.96 to your pocket.
Similar viewed: