World of Warships - DOI - IE / UK
World of Warships - DOI - IE / UK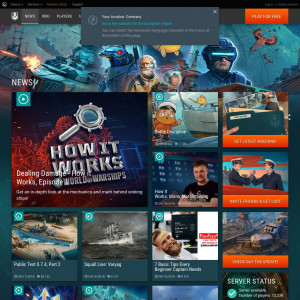 Description:
The extremely anticipated aortic aneurysm title World of Warships is that the latest in a very series of free-to-play, historical on-line combat games to be additional to the wargames portfolio. Command history's most painting war vessels as you build your own huge armed service fleet. Level up vital school modules and prepare to dominate the oceans!

Conversion Requirements: Install & Open.

Offer Cap: fifty Daily

Notes:Non-Complying Geo traffic can auto-divert to acceptable supply if available

Restrictions:No Custom CreativesNo Adult traffic
No Incent TrafficNo airt Traffic.Offer can't be rebrokered.

Allowed Promotions
Desktop net Display
SEO
Contextual
Email traffic (opt-in basis only)

Disallowed Promotions
Adult traffic
Custom Creatives
Network Syndication
Search advertising (No whole Bidding)
Incentive Traffic
PopUnder Advertising
PopUp Advertising
Mobile Application Traffic
Mediabuyer Traffic
SMS traffic
Mobile net Traffic
Discovery App Traffic
Ads Icon Traffic
SMM
Social networks advertising
Social networks Apps
Discovery App Traffic
Push – advertising
Coregistrations
room access pages
ClickUnder
Toolbar – advertising
Virus Traffic

Tracking Requirements:
Affiliate Networks should pass their Affiliate ID into the "Sub_ID" (aff_sub) field.
Details of the way to assign parameters to your links is found here.

Additional language / currency / size creatives on the market - Video Creatives also are on the market - Please contact support or your Affiliate Manager along with your necessities.

Payment Terms:Due to adman lead adjustment coverage and payment cycle, this supply is on Extended Payment Terms.
Payment of commissions on this supply ar Net35.

Please be suggested that the adman reserves the proper to cancel all invalid and fallacious leads / conversions.
Affbank presents an exclusive Games, Other offer from CPA Affiliates Network that excepts traffic from Ireland, United Kingdom! If you ever tried to push money-making offers, you are aware that it's worth the effort. World of Warships - DOI - IE / UK offer will bring you to $1.58 profit, guaranteed. Restriction: only CPA traffic type!
Similar viewed: