**EXCLUSIVE** 2voor1 Clash Royale WEB/WAP NL I MO Flow Mobile Subscription Incent Permitted
**EXCLUSIVE** 2voor1 Clash Royale WEB/WAP NL I MO Flow Mobile Subscription Incent Permitted
Status: Attention! This offer has been disabled at 2018-09-03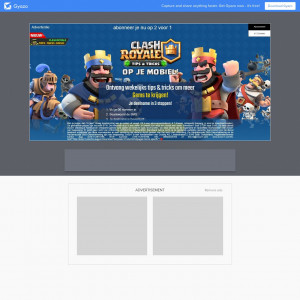 Categories
Incent, Mobile App
Description:
Subscribe to get tips & tricks for Clash Royale!

Pixel fires on MO Flow.

Carriers: All NL Carriers: KPN (47%), T-Mobile (27%), Vodafone (21%), Telfort (4%) and Tele2 (4%)

Allowed Operating Systems: All.

Traffic Allowed: All, Incent Permitted.

Geo: Netherlands

Clash Royale Tips & Tricks op je mobiel!
Get ready for all affiliates, because **EXCLUSIVE** 2voor1 Clash Royale WEB/WAP NL I MO Flow Mobile Subscription Incent Permitted offer is going to knock your socks off! Just check out what you get when promoting it: Netherlands, HUGE payouts, CPA traffic type, full set of tested and highly convertible creatives, not to mention the cool design of the landing page. This Incent, Mobile App offer will make you $18.00!
Similar viewed: