Приставка Dendy + mp3 плеер в ПОДАРОК [RU]
Приставка Dendy + mp3 плеер в ПОДАРОК [RU]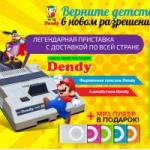 Categories
E-Commerce, Other
Description:
Как совершить прыжок во времени? Можно собрать машину времени, но это долго и трудно. А можно заглянуть к нам! В девяностые было очень модно иметь дома эту приставку. И к тому, у кого она была, всегда приходило много гостей, и все вместе весело проводили время. Так давайте вспомним детство?Время работы КЦ по ГЕО Россия: 24\7\365Трафик принимается со всей территории РФ

Allowed Traffic
Веб-сайты, Дорвеи, Контекстная реклама, Контекстная реклама на бренд, Тизерная реклама, Баннерная реклама, Соцсети: таргетинговая реклама, Соцсети: паблики, игры, приложения, Email-маркетинг, ClickUnder/PopUnder, Биржи трафика, Adult, Toolbar-трафик, Co-reg, SMS-рассылка, Поисковый, WAP-трафик

Restriction
CashBack, Мотивированный
Get ready for all affiliates, because Приставка Dendy + mp3 плеер в ПОДАРОК [RU] offer is going to knock your socks off! Just check out what you get when promoting it: Russia, HUGE payouts, Other traffic type, full set of tested and highly convertible creatives, not to mention the cool design of the landing page. This E-Commerce, Other offer will make you $9.92!
Similar viewed: