Frank (EN)
Status: Attention! This offer has been disabled at 2018-09-28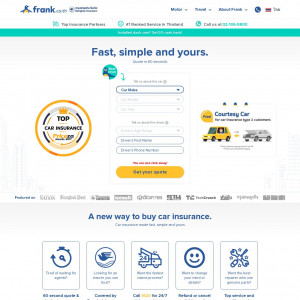 Description:
We are creating a new type of insurance experience, offering the fastest, simplest and most personalised way to get the cover you need, at the price you can afford, in a language you can understand.
We are making insurance more human, by adding a twist of fun and frankness to your purchase, and by helping you understand, select and tailor your policies anywhere and anytime. Insurance is a lifestyle and an ongoing exchange of ideas at Frank, not just that once-a-year necessity.
Offer General Information:

No conversion capping for this offer.
This offer accepts global traffic.
You must only use creative material uploaded in InvolveAsia dashboard for this offer. Any self produced material should be approved in advance by The Advertiser.
Cookie Period: 30 days
Validation Period: 14 days
Payment Term: 30 days
Promotion Method Allowed:

Display
Textlink
Social Media
Email
Incentivised

Promotion Method Not Allowed

Adult / Pornographic
Gambling
Search
Brand Bidding
PPV
Violence

Traffic Allowed:

Coupon Sites
Content Sites
Directory Site
Aggregator and Comparison
Media Buying
Display Network
Cashback
Loyalty
CPA Networks
Paid Search
Behavioural Retargeting
Blog

Conversion Flow:

Refer user to Frank
User made any enquries with respective options of car insurance
User made the payment for chosen options
Affiliaets get paid for completed purchase

Terms and Conditions
Please note the following restrictions:
InvolveAsia will not tolerate for any affiliates and it's conversion that come in as a result of non-compliance with the guidelines listed below. Violating affiliates will be blocked from InvolveAsia offers and their accounts will be subject to a formal audit which may result in account suspension or deactivation and payment forfeiture.
We highly recommend you read the guidelines outlined below and It is your sole responsibility to familiarize and comply these guidelines. Any dispute afterward will not be entertain. Should you need further clarity, do contact your Affiliate Manager.
* No usage of copyrighted videos on YouTube or any other video/streaming site.
* No Bot / Software Generated traffic of any kind.
* No Ad Ware / Spyware traffic allowed.
* No Misleading ads or creatives.
* No Substituted Search Engine Results Page.
* No Bundling of this offer with any other offers signup / installation process.
* Duplicate/invalid leads/installs/sales/conversions will be charged back at the end of the month.
* All rules stated under Offers General Information
Get ready for all affiliates, because Frank (EN) offer is going to knock your socks off! Just check out what you get when promoting it: Thailand, HUGE payouts, CPA traffic type, full set of tested and highly convertible creatives, not to mention the cool design of the landing page. This Other offer will make you $21.63!
Similar viewed: