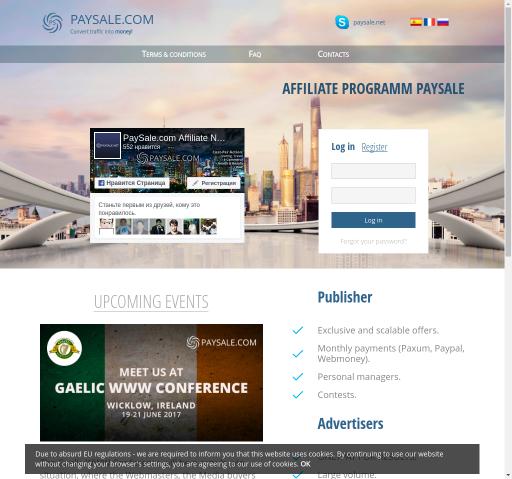 Network details
Payment Type
CPA, CPS, CPL
Payment Method
Wire, Paypal, Check, Webmoney, Paxum
Tracking Software
In-House
Categories
Health&Beauty, Dating, Mobile Sub
Description
PaySale is a professional in affiliate marketing.
The website offers the best deals to any publishers and media buyers. Its aim is to bring customers the highest satisfaction. PaySale works closely with advertisers with the safe hands-on campaign managing method. Working with PaySale, publishers can expect these benefits: high payouts 1 time a month (3 times per week for verified accounts!), and convenient verticals such as e-commerce, match-making, dating, and travel sites etc. Publishers can withdraw their money via Paypal, Wire, Paxum, Webmoney, and Epayments.
Our business strategy focuses on stability, tradition, respect, and trust. We care about our customers and try to provide our customers with support and high-quality services, thus making us a reliable affiliate network.
You can check PaySale reviews and Offers on Affbank and ask PaySale Team any question by using the contacts above, especially about how to earn money!

For registration in the PaySale Network - click on Join Now!