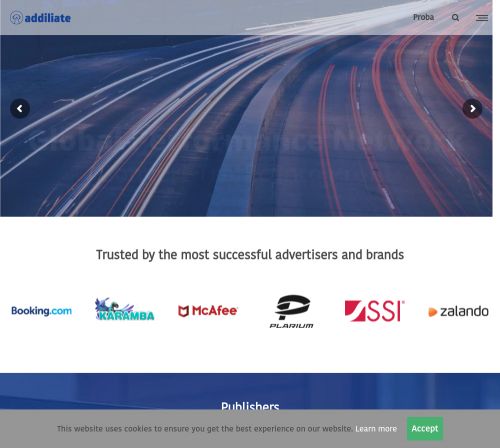 Network details
Payment Type
CPI, CPS, CPL
Payment Method
Epese, Paypal, Payoneer
Tracking Software
In-House
Categories
Sweeps, E-commerce, Mobile Sub
Description
Addiliate is an International Performance-based Marketing network based in Barcelona. The network is a subsidiary of Clicktron Media, a well-known affiliate marketing company in Spain. For over 7 years, Addiliate has been running over 1,500 top-converting campaigns for more than 12,000 affiliate sites over the globe.
Their campaigns focus on several verticals including Retail, Software, Mobile Apps, Sweepstakes/Surveys, Games, and Beauty. Addiliate relies on its exclusive campaigns and competitive payouts and is considered one of the best affiliate marketing programs for advertisers with limited budgets.
Addiliate is dedicated to providing excellent services and utmost support from a dynamic young team. Let's join its 12,000-publisher network and monetize your website TODAY!
You can check Addiliate reviews and Offers on Affbank and ask Addiliate Team any question by using the contacts above, especially about how to earn money!
For registration in the Addiliate Network - click on Join Now!
Network Manager
Simon doesn't reply my mails & skype. I requested a withdrawal on July 30th 2018 but Simon and his poor support services skills is still failing to have my payment processed. He keeps asking the same question about my login and the amount due to me. So unprofessional Simon.
Read more
I am happy with approve rate, but I was afraied at first cause there is a little information about them, but now the balance of more than three acres hangs, though yesterday already brought weave on the webmoney, a gift to yourself for a day.
Read more