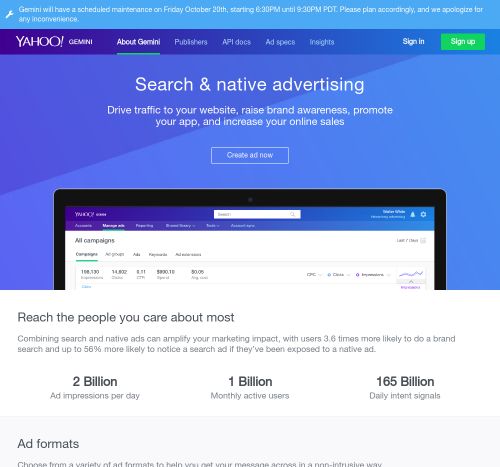 Network details
Payment Method
Wire, Credit Card
Impressions per month
60 billion
Pay In System
Wire, Credit Card
Optimization details
Description
Yahoo Gemini, a Yahoo's Search and native advertising platform, is the one and only marketplace that provides its customers with both search and native advertising in one platform. Insightful data, brand-safe quality content and highly advanced technology offered by Yahoo Gemini enables you to deliver excellent search and native ad campaigns. With about 2 billion impressions every day, together with about 1 billion monthly users, Gemini helps you to approach your target online users and maximize your revenue. The combination of search and native ads optimizes your marketing effects. It is noted that if users have seen a native ad, they are 3.6 times more likely to search for that brand.
You can check Yahoo Gemini reviews on Affbank and ask Yahoo Gemini Team any question by using the contacts above, especially about how to earn money!

For registration in the Yahoo Gemini - click on Join Now!
Yo trabajo con ellos tanto por CPC como por CPM con 2 páginas web. En CPC yo recibo pagos cada 2 o 3 semanas, Para CPM yo usaba taboola, ellos pagan después de 3 meses, Adnow siempre me paga por CPM por adelantado :)
Read more
Anastasiia_Affbank
2016-06-15
Bons site de pub et avec de très bons GAINS.
Read more