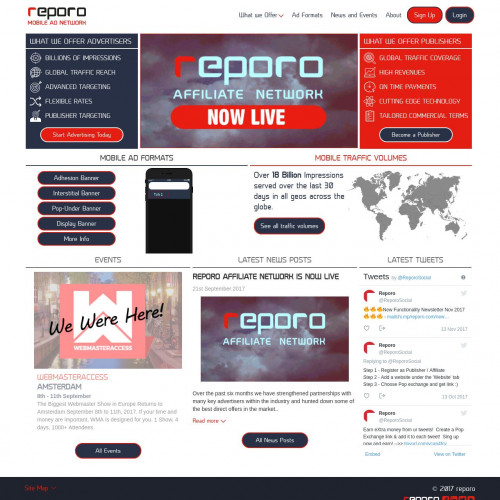 Network details
Impressions per month
18 billion
Optimization details
Targeting by Carrier:
Yes
Description
Reporo is a mobile ad network set up in October 2006 based in London. We offer 100% direct publisher involvement and mainly work with producers of VOD, Utility Apps, Gaming, Men's Health, Casino/ Sports Betting and Adult. We try to reach the target of assisting advertisers and publishers to gain best returns through our banner, pop-under, and pop-under eXchange networks.
With the international access to advertisers, Reporo makes use of its sales offices in the UK, India, and Asia to help publishers boost global monetization. We also commit to providing advertisers with our superior targeting features to reach their clients and expected CPA. In order for advertisers to operate campaigns successfully, we will equip them with the needed knowledge and insight that we have gained from our years of experience in the field. For publishers, we are proud to provide them the most competitive rates in the market so as to gain the most profits.
You can check Reporo reviews on Affbank and ask Reporo Team any question by using the contacts above, especially about how to earn money!
REPORT
Network Manager
Sponsored offers