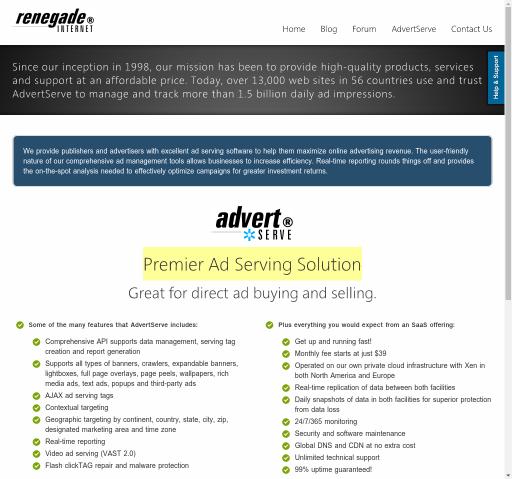 Network details
Impressions per month
1 million
Ad Format
Video, Text, Mobile, Popup, Banner
Pricing Model
CPM, CPA, CPC
Optimization details
Description
Since our establishment in 1998, Renegade Internet has been striving to undertake the mission to offer our customers cost-effective and quality products, services and support. As a reliable provider of leading-edge ad serving software, we has been trusted by more than 13,000 websites in 56 countries to manage and track over 1.5 billion daily ad impressions on more than 13,000 websites. Real-time reporting streamlines operations and performs in-depth analysis on the spot to enhance campaigns' results and make more money for businesses. Our AdvertServe, the high-end ad serving solution for direct ad exchange, does it all, whether it is web, mobile or video ad serving!
You can check Renegade Internet reviews on Affbank and ask Renegade Internet Team any question by using the contacts above, especially about how to earn money!

For registration in the Renegade Internet - click on Join Now!