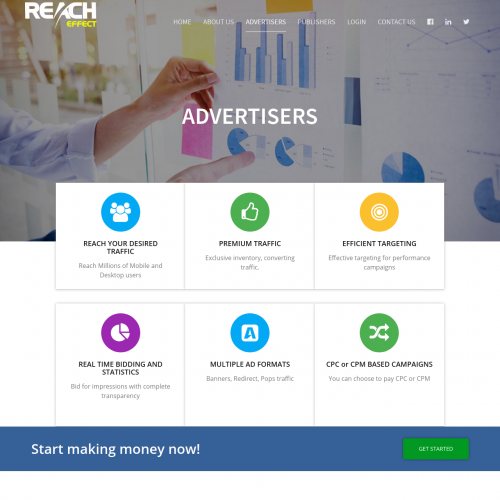 Network details
Payment Method
Paypal, Payoneer, Bank transfer
Top GEOs
MX, CA, CO, DE, IT, ES, US
Impressions per month
5 billion
Ad Format
Mobile, Native, Popunder, Popup, Banner, Push
Pay In System
Paypal, Payoneer, Bank transfer
Pricing Model
CPM, CPC, CPV
Optimization details
Description
ReachEffect is a world leader in web and mobile advertising founded by a team of advertising experts which focuses on entertainment services.
With ReachEffect, you can choose whether you become:
a publisher

- who has the ability to monetize the content of the website with the help of a high standard monetization technology

an advertiser

- who can use distribution channels and have access to premium inventory.
With 24/7 Customer Support service, the ReachEffect team's main concern is the quality of their services and providing a solution regardless the encountered issue. Moreover, you have the opportunity to benefit from non-stop bonuses at every deposit.
If you have any other questions before signing up with ReachEffect, don't hesitate to contact the ReachEffect team which will provide a detailed answer to your questions as soon as possible.
For registration in ReachEffect Network - click on Join Now!
Network Manager
TrafficJunky gives you access to the most adult impressions of any network. I find their interface and campaign creation to be a bit tedious and the banner sizes aren't always standard so that creates work for me. It's super easy to blow your budget until you know how the bidding system works and what geos to target so start slow and very specific. Their support can be good or bad just depends on who you talk to and they now offer 24/7 support thats nice. They accept a variety of payment options. I'm not a fan of their stats and have never figured out their s2s postback tracking but they are still worth using.
Read more
I've used exoclick both as publisher and buyer and it's got great features and support on both sides. As publisher they have TONS of options to monetize your traffic and add new tools as they become popular like Pre-Roll ads currently. As a buyer exoclick has access to many of the big adult porn sites and comprehensive targetting options. It's very easy to spend your budget quickly if you don't keep a close eye on your campaigns and remove unproductive sources. They have some mainstream traffic too, mostly streaming/hosting but it's worth testing if you have offers for that traffic type. As with most bigger companies support can become complicated if you deal with multiple people but it is 24/7 and they respond very quickly including approving campaigns and ads. They take a number of payment options but do cap some of them per month so that can be a problem for some buyers. Overall one of my favorite networks for fast traffic.
Read more