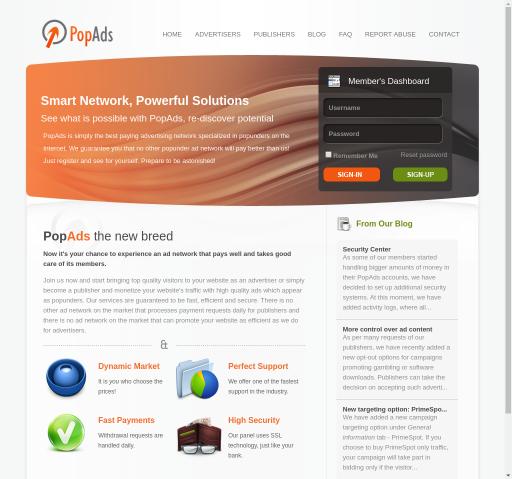 Network details
Impressions per month
1 billion
Optimization details
Targeting by Carrier:
Yes
Description
PopAds is the best paying advertising network that specializes in popunders. Being a PopAds publisher, you can easily monetize your websites with high-quality ads appearing as popunders. PopAd platform is featured by an anti-fraud system which is compatible with all proxies, bots and mobile traffic yet its quality depends on publishers' bid. Whenever you sign in PopAds, your connection will be encrypted by SSL just like logging into a bank account! Also, your traffic speed is dependent on your bid. The higher your bid is, the more traffic will be driven to you. You can also modify your maximal bid at any time to adjust the traffic speed and quality.
As the PopAds network of publishers grows every day, so does its inventory. Targetting options offered by PopAds are keyword, category, country and time. Publishers at PopAds can enjoy reasonable rates, prompt support and quick payouts that the network offers.
In terms of billing, payments via PayPal, Wire Transfer and AlertPay are accepted. Furthermore, your PopAds account can function as an e-wallet which enables you to withdraw money that you don't spend at any time.
PopAds is devoted to serving your benefits and if you do not get what you expected, a money refund will be processed.
You can check PopAds reviews on Affbank and ask PopAds Team any question by using the contacts above, especially about how to earn money!
REPORT