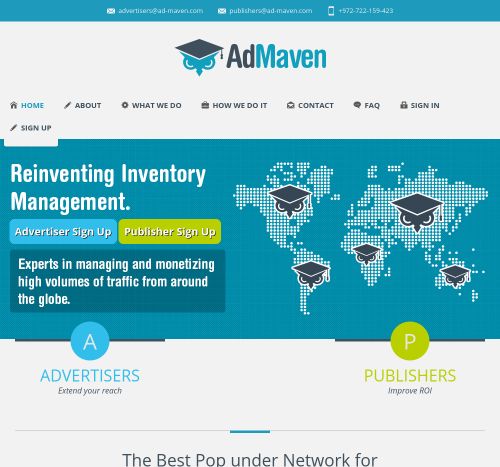 Network details
Impressions per month
15 billion
Ad Format
Mobile, Native, Popunder, Banner, Push
Optimization details
Description
Ad-Maven is a platform founded by a team of advertising and monetization experts that focus on bringing you website traffic from all around the world.
With more than 15 billion impressions monthly and partnerships with top brands from different countries, Ad-Maven guarantees your ad inventory quality will be maximized and different kinds of audiences will be enticed.
When it comes to Publishers, Ad-Maven reaches for quality unique users that engage depending on their interests.
Their Mobile Platform is designed so that their team of experts will help you increase engagement and constantly improve the users' experience.
Check the reviews on Affbank about Ad-Maven and for any details regarding their Target Audience, Pricing Models and Advertising Formats, reach the Information section.
REPORT
Network Manager
Sponsored offers